KYRT Series Three Phase Voltage Regulator Module
· SCR Output for Heavy Industrial Loads
· Phase Angle Switching Mode Available
· High EMC Immunity Design
· Control Inputs: 0-5VDC, 0-10VDC, 4-20mA
· Load Current: 25A-80A
· Integrated RC/MOV Protection Circuit
· IP20 Finger Touch Protection
· RoHS Compliant
KYRT Series Three Phase Voltage Regulator Module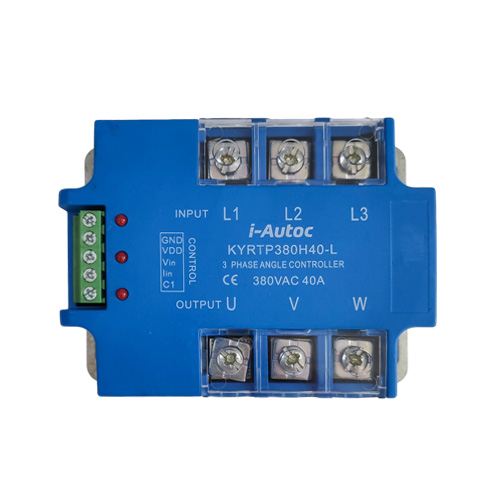 General parameters

| | |
| --- | --- |
| Name | KYRT Series Voltage Regulator Module |
| Load Voltage | 180~530VAC |
| Load Current | 25A / 40A / 60A / 80A |
| Ambient Temperature Range | -30℃ ~ +80℃ |
| Storage Temperature Range | -30℃ ~ +100℃ |
| Weight (Typical) | 360g / 560g |
Click the link below to download datasheet

KYRT_EN_V3.4_20200701.pdf
General Notes
1. For product with internal phase detection circuit, L1/L2/L3 should be connected to input line voltage, U/V/W should be connected to load. Product will not work when the connection is reverse.
2. To ensure the C1 terminal connected correctly according to the different load connections, otherwise the product will not work properly.
3. The heat generated by the work of the pressure regulating module shall be dispersed through the bottom plate, so as to ensure that the bottom plate of the relay is in close contact with the radiator and is firmly installed, and the contact surface shall be equipped with thermal pads or coated with thermal conductive silicon grease.
4. The terminals of the voltage regulating module shall ensure that the wiring is firm. Loose wiring will lead to abnormal heating and damage to the products. Recommended installation torque of input terminal is 0.5N·m, and recommended installation of output terminal The torque is (0.98 ~ 1.37) N·m.
5. When the working environment temperature of the product is high, please refer to the temperature curve to reduce the use.
6. Ensure the electrical grounding reliably during the use of the SSR.
◆Product specifications are subject to change without notice. Please don't hesitate to contact with us for any technical questions.