KSIM Series Single Phase AC Output SSR
· Zero-crossing or Random-on Switching
· TRIAC Output
· DC Input
· Dielectric Strength: 4000Vrms
· Load Current: 10A, 16A, 25A
· Internal RC/MOV, TVS Protection Circuit
· LED Indicator
· RoHS Compliant
KSIM series single-phase solid state relay(KSIM series SSR)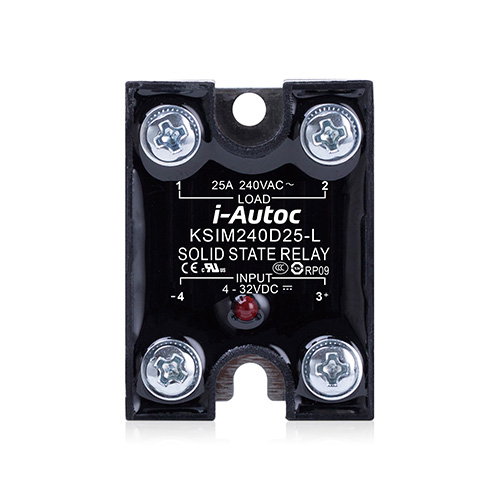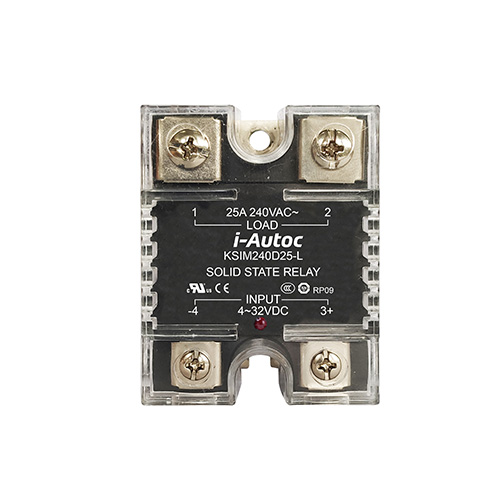 General parameters

| | |
| --- | --- |
| Name | KSIM Series SSR |
| Load Voltage | 240VAC / 380VAC |
| Load Current | 20A / 16A / 25A |
| Ambient Temperature Range | -30℃ ~ +80℃ |
| Storage Temperature Range | -30℃ ~ +100℃ |
| Weight (Typical) | 35g |
Click the link below to download datasheet

KSIM(-KHS)_EN_V3.2_20200622.pdf
General Notes
1. Relay must be mounted to proper sized beat sink hased on thermal curves. Thermal grease or a thermal pad must be used between relay and heat sink and be torqued down to 18-20/2.0-2.2in-lb/Nm.
2. When connection wiring to SSR, please ensure screws are torqued down properly (input 13-15/1.5-1.7in/lb/Nm, output13-15/1.5-1.7in-lb/Nm).
3. SSR's carrying load capacity is related to the operation ambient temperature and heat dissipation condition, please refer to the Thermal Derating Curve for derating.
4. The capacitive load will generate high inrush current at the moment when the SSR been turned on, which may damage the SSR. Therefore, if the load type is capacitive, or if the load has parallel capacitance, please make sure series connect a NTC in the load loop to suppress the inrush current to protect the SSR.
◆Product specifications are subject to change without notice. Please don't hesitate to contact with us for any technical questions.