KSD Series Single Phase AC Output SSR
· TRIAC Output (3A) or SCR Output (5A)
· Control Voltage: 4-15VDC, 15-32VDC, 4-32VDC
· Load Voltage: 240VAC, 480VAC
· Load Current: 3A, 5A
· Dielectric Strength: 4000Vrms
· RoHS Compliant
KSD(037) series solid state relays(KSD series ssr)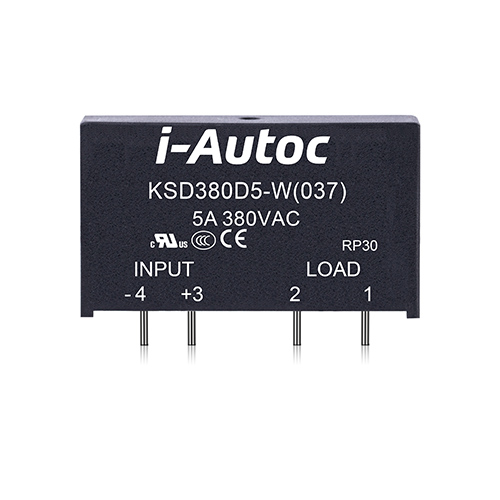 General parameters

| | |
| --- | --- |
| Name | KSDSeries SSR |
| Load Voltage | 240VAC / 380VAC / 480VAC |
| Load Current | 3A / 5A |
| Ambient Temperature Range | -30℃ ~ +80℃ |
| Storage Temperature Range | -30℃ ~ +100℃ |
| Weight (Typical) | 20g |
Click the link below to download datasheet

KSD(037)_EN_V3.2_20200413.pdf
General Notes
1.260℃ welding temperature, the whole process should not exceed 10 seconds, 350℃, the welding process should not exceed 5 seconds, otherwise it may cause damage to the product.
2. Control end polarity should be correct, otherwise it will damage the product.
3. When the working environment temperature of the product is high, please refer to the temperature curve for derating.
◆Product specifications are subject to change without notice. Please don't hesitate to contact with us for any technical questions.