KMTYM Series Three Phase Motor Reversing Module
· 10-32VDC Input
· Internal RC/MOV Protection Circuit
· Automatic Phase Correction, Phase Sequance Detection or Phase Loss Protection Function (Option)
· RoHS Compliant
KMTYM Series Three-phase Motor Reversing Module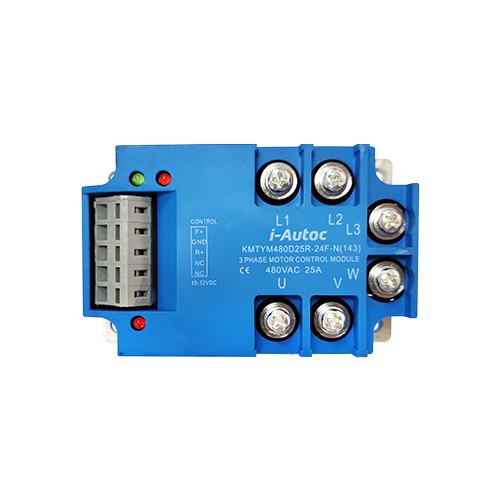 General parameters
| | |
| --- | --- |
| Name | KMTYM Series Motor Reversing Module |
| Load Voltage | 380VAC |
| Load Current | 15A / 25A |
| Ambient Temperature Range | -30℃ ~ +80℃ |
| Storage Temperature Range | -30℃ ~ +100℃ |
| Weight (Typical) | 180g |
Click the link below to download datasheet

KMTYM_EN_V3.3_20200327.pdf
General Notes
1. Relay must be mounted to proper sized heat sink based on thermal curves. Thermal grease or a therma pad must be used between relay .
2. When connecting wiring to SSR please ensure screws are torqued down properly output (0.58-0.98)N·m,5.13-8.67(lb-in)
3. When the operation temperature is high, please consider the derating as per the thermal curve.
4. Ensure the electrical grounding reliably during the use of the SSR.
◆Product specifications are subject to change without notice. Please don't hesitate to contact with us for any technical questions.